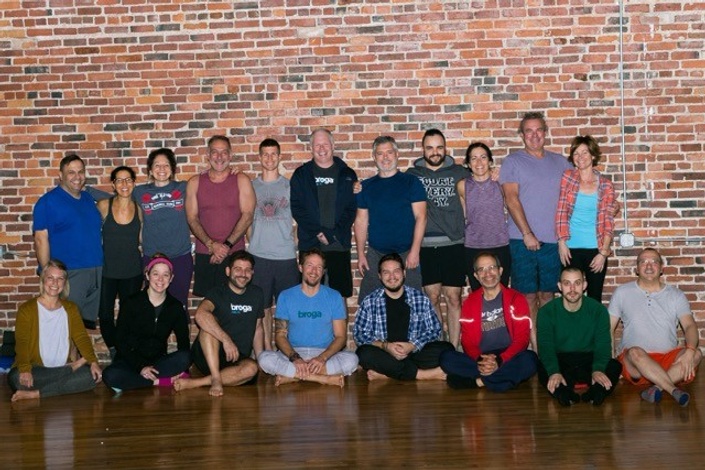 Broga® Presents: 200hr Yoga Alliance Certified Teacher Training
Live, In-Person Immersion Program with Robert Sidoti
Watch Promo
Enroll in Course
Hello!

We're thrilled to be offering our second annual 200hr Yoga Alliance accredited training program beginning in January 2018 at the Namaste Yoga/ The Athlete's Yoga in Woburn, MA.
In one-weekend-per-month sessions, Robert Sidoti, Broga® Yoga Creator & Co-Founder, is bringing his years of experience as a program developer, instructor, teacher trainer, and thought leader together in a comprehensive curriculum, along with guest experts across a variety of disciplines.
This live, in-person, 200hr yoga education training program is open to everyone. Any and all levels of yoga experience are welcome.
In fact, diversity is our strength and our preference. We are looking for applicants of all backgrounds and yoga experience to offer a deeply enriching program... You will learn from each other in addition to the instructors.
More details below. We hope you'll join us for this powerful, fulfilling experience.

-Robert, Chuck, & everyone on Team Broga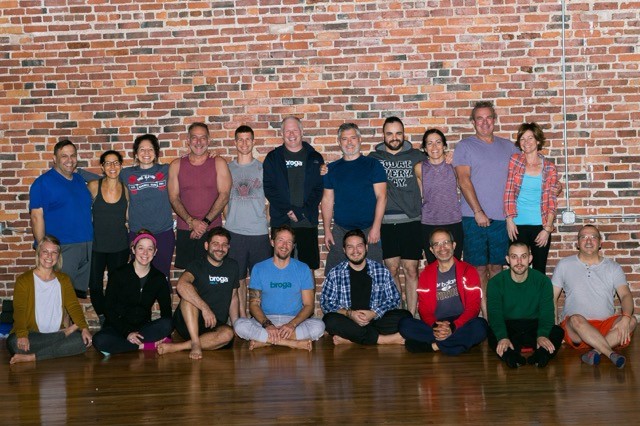 Your Instructor
Robert Sidoti is a certified yoga instructor and personal trainer. He has created Broga with a simple goal: To bring the benefits of yoga to more men.
Broga represents the culmination of Robert's vast expertise as a health and fitness professional and the attainment of his goal to create an optimal, and balanced, fitness program.
With his personality, commitment to promoting men's health, and deep love of yoga, Robert's Broga class is energetic, fun, challenging, and mildly addictive. He is a passionate, innovative and skilled teacher.
Robert has received certifications through the National Academy of Sports Medicine, 'Yoga for Athletic Peak Performance' with Swami Sitaramananda at the Sivananda Vendanta Centre, Karma Kids NYC, and 200hr RYT with Kira Ryder, founder of Lulubandhas and the Ojai Yoga Crib.
When not running Broga Instructor Training courses, annual retreats at Kripalu Institute and elsewhere, or leading classes at national events such as Yoga Reaches Out, Robert resides on the island of Martha's Vineyard in Massachusetts.
Robert is the Creator & Co-Founder of Broga® Yoga, a featured presenter on YogaAnytime.com, a repeat presenter at Kripalu Institute, and an e-RYT 200 through Yoga Alliance. This is a rare opportunity to take a 200 Hour Yoga Teacher training with an internationally recognized Yoga Professional serving as the lead instructor who will be present every weekend of the training.

Robert will be assisted by Chuck Raffoni, one of Broga's directors and a successful yoga instructor in his own right.

Other Guests Include:
GIRISH- International Mantra Recording Artist and Author
JAMES BAILEY- Named one of the Top 100 Trailblazers in Yoga and Ayurveda by Spirituality and Health Magazine
DAVID ROGGE- Los Angeles Based Fitness Expert
and more to be announced.


From our inaugural training in 2016, 70% of trainees went on to become Yoga Alliance Registered Instructors (RYT 200). The training has received a 5-Star Review with the independent Yoga Alliance Assessment Process.

In addition to the 200 Hour Yoga Teacher Certification, students will also receive certifications in Broga® and be among the first certified in our newest class concept, Broga® Chill!
Registration: $2999.00


Reserve your spot today with our early enrollment deposit rate. This is the LOWEST price that will be offered for the program:
$499.00 and receive a credit for $999.00 off the final balance, a $500 savings.
To take advantage of this early rate, pick the payment option below or contact [email protected]


The First Five Sign Ups will receive an Exclusive BROGA® 200 Hour YTT Yoga Mat Bag that was donated by one of our graduates last year who wanted to "pay it forward" to incentive others to have the life changing experience he did! SOLD OUT!

The First 10 Sign Ups Will Receive an Official BROGA® T-Shirt ($28.00) Value - Only a Few Spots Left With This Bonus!
________________________________





Course Schedule:
One Weekend Per Month Beginning January 2018 through October 2018 (meets 2x in April)
Weekends of 1/5 , 2/2, 3/2, 4/6, 4/27 , 5/4 ,6/8, 7/20, August 10, September 14, October-TBD
Fridays 5:30 p.m.- 9:00 p.m.
Saturdays Noon- 8 p.m.
Sundays 11:15 a.m. - 5 p.m.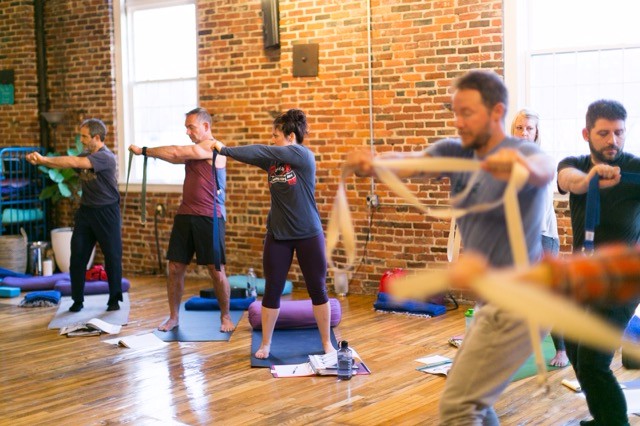 TESTIMONIALS:

"To deepen my practice and move forward I decided to sign up for the 200 hour training. In my life, there are moments on which I look back proudly. Making this decision was by far in the top ten of those moments." - Mo J.

"I wouldn't be where I am today if it wasn't for Rob and Chuck's help. They are two amazing guys with a lot of great knowledge they are willing to share and help anyone who is open minded." - Ryan L.

"Rob & Chuck provided a very accessible training experience. They were both very supportive and able to answer our questions." - Doug F.

"Truly an awesome experience! Robert and Chuck are amazing instructors who truly show their passion for yoga through their teaching. Walking through the door I had an extremely limited knowledge base in yoga and they were patient and thorough with my education." - John L.

"Broga Yoga's 200-hour teacher-training prepares its trainees to begin teaching the principles and techniques of yoga safely, competently and entirely." - Eric L.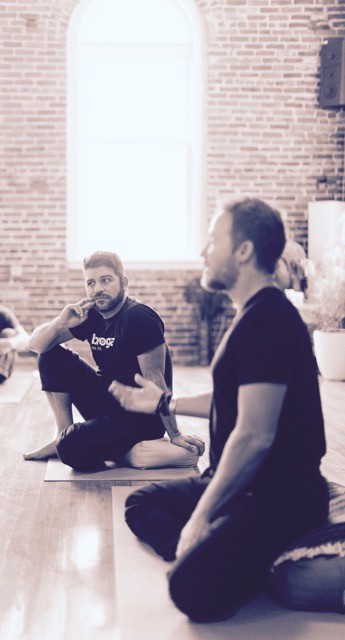 Course Curriculum
Materials and lessons for this in-person course will be provided via this online portal
Available in days
days after you enroll